After downloading and running the HomeGuard Pro setup program, you will be presented with the following steps:
1. Packages to install: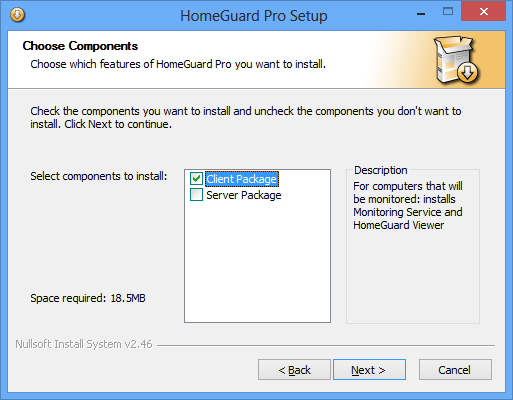 Check the "Client package" for computers that will be monitored. This will install the monitoring service and HomeGuard Viewer.
Check the "Server package" for computers that will be used to remotely view monitoring records and change monitoring and blocking settings. This installs the server service and HomeGuard remote viewer.
Check both packages if you are planning to use a computer as a server and monitor it at the same time.
For both client and server packages HomeGuard will add itself to the Windows Firewall exception list. If you have another Firewall or other security software installed please make sure you add all exe files in HomeGuard's folder to the exception list. HomeGuard uses TCP port 5892 and UDP port 5894.
2. Installation folder: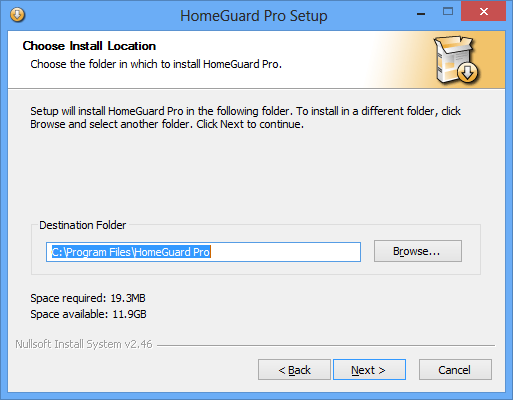 This folder will be protected on monitored computers, no files can be moved or deleted from it unless you use your password to stop or uninstall HomeGuard.
3. Shortcuts: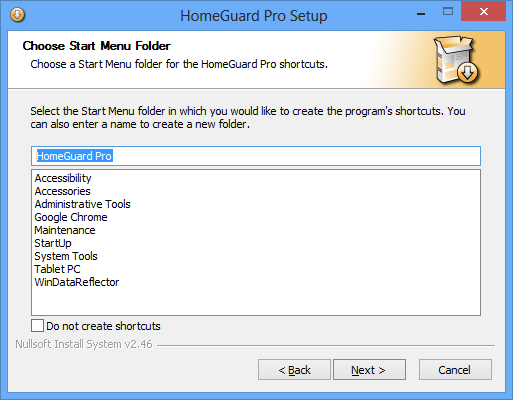 This will create a shortcut for the HomeGuard Viewer in the start menu folder of the currently logged on user only, it won't show for any other user and it is password protected. If you don't want start menu shortcuts check the "Do not create shortcuts" box. If you choose not to create shortcuts you can open HomeGuard by going to the folder where you installed it and run "HomeGuard.exe" directly.
4. Choose a password: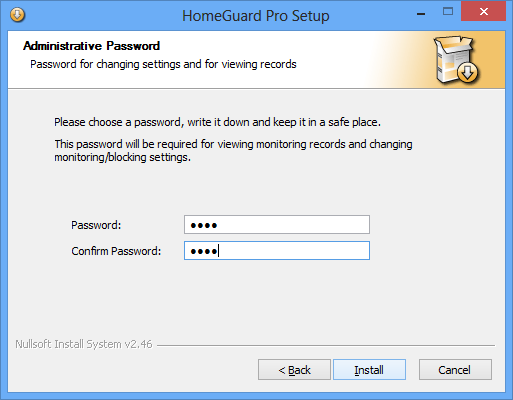 A password is required for both monitored (client) and server computers and it will be used to log in to the server and will be used by the server to remotely access monitoring records and change monitoring settings on client computers.
We recommend using the same password for monitored (client) computers and controller (server) computers. If you choose different passwords you can later let the server know which password to use for each client computer by manually entering the password for each client computer in the "Remote Machines" section of HomeGuard Remote Viewer. This can be done by right clicking the client computer and choosing the "Enter Password" menu item.