Restrict Computer and Internet Access to Certain Times of Day or Days of Week or Block All Internet Access and Computer Usage
Control Gaming Time and Unproductive Time Online
Time restrictions and access/usage control
Restrict computer and Internet usage times for certain users or block all Internet and computer access.
Restrict Online Games and Any Type Of Games
Using the website blocker you can block online gaming servers or you can block the gaming applications themselves from running. HomeGuard is commonly used to block Steam games, Fortenite, Minecraft, Roblox, PUBG among others.
Restrictions cannot be bypassed
By changing system time or by killing blocking process, HomeGuard Activity Monitor blocks system time changing for all users by default and runs natively in the system it doesn't have an entry in Task Manager or the list of installed programs.
Printed files, blocked and allowed.
Protect Against Data Theft, Porn and Harmful Files and Viruses
HomeGuard provides various tools to protect against data theft including cloud storage programs blocking, blocking of file uploads and blocking the transfer of files to USB devices. HomeGuard also blocks transfer or opening of files in external USB drives therefore offering blanket protection against viruses as well as porn videos and photos.
State-Of-The-Art Web Content Filter and Blocker
Sophisticated porn filter that blocks pages dynamically based on their content and optionally block pages and websites by URL. HomeGuard website blocker is smart enough to single out and block certain content types like videos or photos.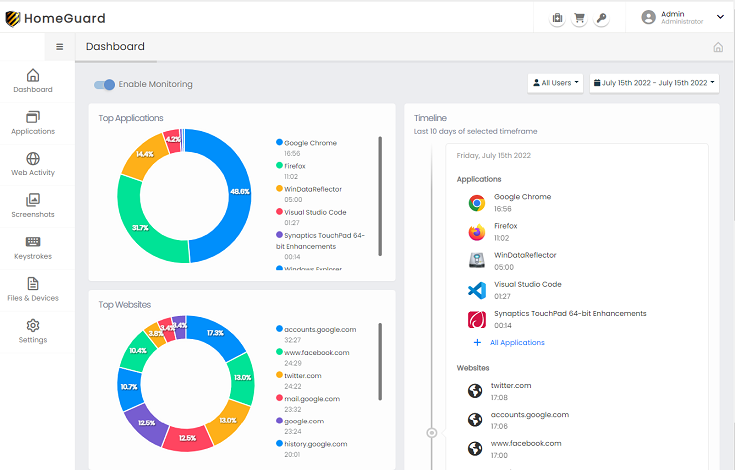 Versatile Parental Control Tools to Protect for Family Safety Online
Works Silently in Stealth Mode
Various activity monitoring tools with detailed reporting for keeping track of web, social media activity and gaming and stopping destructive patterns and blocking them before they ever become a problem.