HomeGuard Keylogger Captures Every Keystroke Typed On the Computer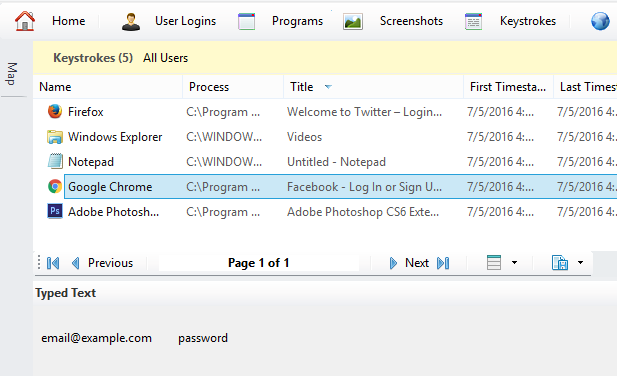 Built in keylogger captures user names and passwords and any text typed.
HomeGuard Keylogger is the ultimate solution for monitoring all computer activities both online and offline and for blocking addictive and harmful habits. HomeGuard protects kids from online predators and bullies by monitoring chat messages, email, social networks and web activity and presenting detailed monitoring logs to you in searchable text form and with screenshots of every activity.
Secretly record everything typed in web browsers and applications
System-wide keylogger: capture all keystrokes typed on the computer including user names and passwords, visited websites, chat messages, emails, web forms data and Facebook posts.
Detailed keylogging data: record which program was typed in, when and what was its window title at the time of typing.
Multilingual support: full support for languages that use non-Latin scripts (Unicode) like Russian, Chinese..etc
Secure logging of captured data: all captured data are encoded and safely saved to the monitoring records database which is only viewable using the admin password, chosen during installation.
Web search monitoring and filtering: monitor and block words searched for on search engines: Google, Yahoo and Bing.
Reliable stealth keylogging: HomeGuard Keylogger is unobtrusive it will run invisibly and doesn't slow down your computer or use too much resources.
Other HomeGuard Activity Monitor features:
Screen Capture: activity based and time based screenshots capturing. Takes screenshots when a website is visited, program started, file printed...etc
Block Websites: HomeGuard web filter records every website visited and time spent on each website and what program was used to access it.
Content Based Porn Filter: HomeGuard net filter blocks porn websites based on their content even if network traffic was rerouted through a proxy server.
Restrict Internet and Gaming Times: set time limits on gaming (or individual programs), Internet access and computer usage.
Selective Monitoring and Blocking: choose which users to monitor and at what times of day and days of week to monitor/block activities.
Tamper Proof: Uninstallable and unclosable except using the administrative password provided during installation.
Capture all keystrokes typed on the computer for all users in stealth mode, and many more parental controls.



Tags: Keylogger - Parental Controls - Keystroke logger - Web Filter - Block Websites - Net Filter