By default HomeGuard server synchronizes its database of monitoring records with all connected client computers every 20 mins (see
this page
for info on how to change this interval). You can view the records by just logging in to HomeGuard viewer.
You can also start a download at any time. To download monitoring records from a remote client, after logging in to HomeGuard viewer, go to the "Remote Machines" section and select the computer or computers you want to download monitoring records from then click the "Download Records" toolbar button, as shown below. (To select multiple computers press and hold down the CTRL key and click the computers you want to select.)

Choose download options and click "Download".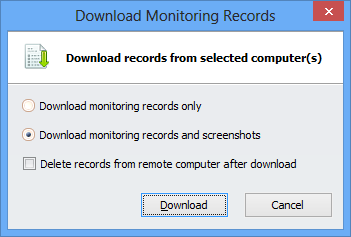 Only new or changed records will be downloaded and added to the server's main database and will be automatically integrated into HomeGuard viewer's reports.