Protect your family from Internet pornography, block all websites with porn or inappropriate content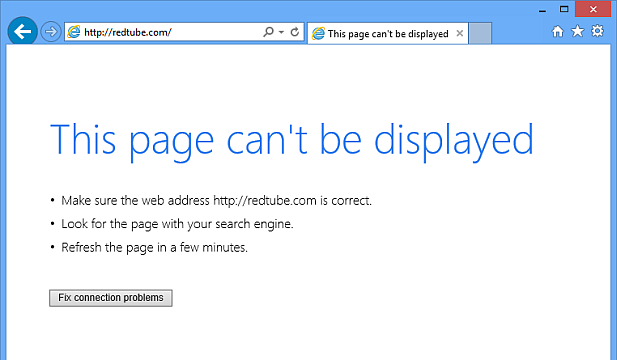 Content specific porn filtering: HomeGuard silently blocks porn content in web pages including search engine results.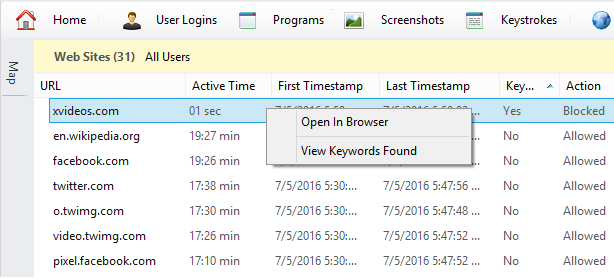 Details of blocked content/websites.
Filter porn in any web browser: HomeGuard porn filter is browser independent it blocks porn in all web browsers and all applications.
Efficient porn filtering: runs silently and unobtrusively blocking unwanted websites and any pornographic, sexual or harmful content.
Porn blocking cannot be bypassed: blocked websites/porn content cannot be viewed through using a proxy server bypass either web based or as desktop programs.
Easy to use and low maintenance filtering: once installed it will immediately start filtering out and blocking porn websites, no configuration or intervention needed!
Detailed web activity reports: records details of visited websites including time and duration of visit and blocked content.
Does not slow down your computer or Internet speed: uses very little to no system resources by implementing advanced content filtering algorithms.
Plus: content type based filtering
Block web content by type
, e.g.: you can block all
online video
or exe downloads. This is particularly useful if you want to block questionable content in normally non-porn sites like youtube, metacafe, vimeo...etc or to just save bandwidth in work environments or as a radical solution against viruses (through
blocking exe downloads
altogether)
Other HomeGuard Activity Monitor features:
Block Websites: HomeGuard web filter supports blacklisting/whitelisting and records details of website visits including time spent on each website and what program was used to access it.
Keylogger Tool: built in keylogger records all keystrokes typed on the computer including user names and passwords with full support for non-latine scripts (unicode).
Screen Capture: activity based and time based screenshots capturing. Takes screenshots when a website is visited, program started, file printed...etc
Restrict Internet and Gaming Times: set time limits on games, block any application and restrict Internet access times and computer usage times.
Selective Monitoring and Blocking: choose which users to monitor and at what times of day and days of week to monitor/block activities.
Tamper Proof: Uninstallable and unclosable except using the administrative password provided during installation.
Permanently block porn websites and pornographic content, and many more parental control and monitoring features.



Tags: Porn Blocker - Net Filter - Porn Filter - Block Websites - Web Filter - Anti Porn - Internet Filter - Block Porn Websites - Website Filter - Website Blocker