Monitor network connections, capture detailed network traffic info, block certain protocols, block ports or block IP addresses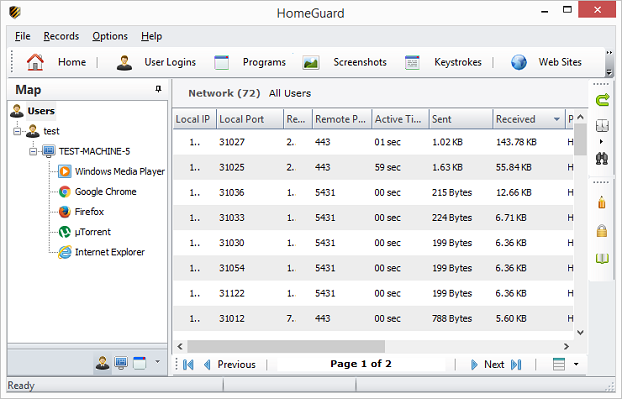 Complete details of all network connections.
Detailed network traffic info: HomeGuard Network Monitor records which application is connecting to the Internet, to what IP address, what port is being used and bandwidth consumed by each connection.
Network Protocol Blocking: Block connections on a certain port or to certain IP addresses. Useful for blocking protocols using dynamic ports like file sharing (peer to peer) protocols.
Quickly pinpoint which applications or spyware is using up your network bandwidth and which users are consuming your network bandwidth downloading videos or streaming media.
Other HomeGuard Activity Monitor features:
Block Websites: HomeGuard web filter supports blacklisting and whitelisting plus records details of website visits including time spent on each website and what program was used to access it.
Content Based Porn Filter: includes net filter feature that blocks porn websites based on their content even if network traffic was rerouted through a proxy server.
Keylogger Tool: built in keylogger records all keystrokes typed on the computer including user names and passwords with full support for non-latine scripts (unicode).
Screen Capture: activity based and time based screenshots capturing. Takes screenshots when a website is visited, program started, file printed...etc
Restrict Internet and Gaming Times: set time limits on gaming (or individual programs), Internet access and computer usage.
Selective Monitoring and Blocking: choose which users to monitor and at what times of day and days of week to monitor/block activities.
Tamper Proof: Uninstallable and unclosable except using the administrative password provided during installation.